THOUGHTS IN MY HEART
There is a man I wish I knew, and in my heart he wanders through,
He marks my thoughts within the night, till shadows find the morning light.
There is a man that captures me, in tones of soft serenity,
He brings a smile in subtle ways, and in my soul I wish he'd stay.
There is a man that speaks to me, and melts my heart though none will see,
He stirs the wonder within me, for now or never as fate will be.
There is a man that enchants me so, with his quiet ways and this he knows,
For none I've met have yet to see, the heart that's kept inside of me.
There is a man that wanders through, my secret thoughts and it is you,
Perhaps one day we both shall see, of what will be our destiny.
There is a man I admire so, and now I hope he surely knows,
For he has so inspired me, and with this poem I honor thee.


THE LEGEND OF FRODO
I labrys, did wander the land, searching for wisdom in Lothlrien
They said to seek the one so brave, a hobbit they told the bearer of rings
A legend it seems that speaks of his quest, is known to many in the Old Forest
They tell me of riders, dressed in black, and mirrors of magic one dare not look at
The Ents speak softly as they shepherd the trees, of sorrows and wars with no endings
The darkness they whisper is upon the land, for some do fear the end is at hand
As we spoke in the moon's pale light, out of the shadows he stepped into sight
The flames of the fire, captured his face, I knew in a breath, and was not afraid
With a tip of his head, his eyes held my gaze, in silence we smiled, as I was amazed
Slowly I stood to greet this one, as he bowed in gesture, I knew who he was
A good eve to you sir, was all I could say, his smile was of wonder as is hobbits way
I tipped my head in likened respect, was late in the eve when Frodo I met
Enchanting was he and the wisdom he told, I listened in silence of all that he spoke
He filled me with wonder and his secrets I kept, the trust of a hobbit I do cherish yet
Now as I journey across this land, my thoughts drifts back to Lothlrien
To the one who stood in the pale of the night, and captured my soul in the soft fire light
For someday I'd hope as the story's retold, by Frodo from Bag End the hobbit so bold
That he would remember the night we met, he inspires me still, in my heart he is kept

CONVICTIONS
Life it seems is a process of building one's concepts and forming beliefs. That which we learn to perceive is often the basis of our life long convictions. Fragments of theories and gathered bits of knowledge, which we seem to hold tightly to, some of which we cannot explain and most often do not question. But it remains the core of who we are, and what morals we set as our path in life. A comfort zone of sorts to fall back on in times of crisis or frustration, and a source of inspiration when we feel that urge to conquer our destiny, but mostly, a steady hand to guide us as we face the daily tribulations that demands the majority of our attention.
In the best of times we seem to excel at putting forth our best impressions, head strong and fully aware of what we want from the world. We readily accept the maze of options that filter through our minds and separate the note worthy ones, tucking them neatly away. Keeping them fresh until a later moment when we can examine them in depth and find the essence in the meaning that drew us near.
Upon arriving at some new revelation, some happily pin them on like a new badge, wearing it proudly for others to see what they have found hoping for the chance to impart the wisdom should another ask. Some will run yelling like the town crier, insisting that all who would hear join in the ranks and march along, demanding allegiance without question. Still others smile quietly, and with a smirk of arrogance pocket the information for a later time when the opportunity would arise, handing it out unassumingly like a business card with an air of knowing.
And in the worst of times, we fall silently into our souls, searching for the wisdom that keeps us safe, evaluating those convictions that we adhere to and follow without thought, for they have served us well for the most part. Beliefs that give us courage when the answers are difficult to find. Perceptions of the world that shelter us from the unknown when we are faced with the decisions that would shape our next step and perhaps change our course in life. And always will we wonder, if what we decide is the "right way", or is it merely what others would have us believe. These are the faltering times for us, for no one is ever sure of that next step nor would we fully trust the advice of those who too readily seem to know what is best for us, blindly we make our way in the world.
And then there are the times when, we are faced with situations that demand the truth, those times when we gather the sum of who we are, and quietly examine why we are, and what we shall become. Not an easy task, and yet, in our subconscious, we know the truth, and still the decisions are hard to make. Simply knowing what is best, is not always what we would wish it to be and yet, we cannot allow ourselves to be what we are not. In our hearts, we cannot ignore the facts of a situation, and so in keeping with our convictions we set our wishes aside, and do that which is noble. And in the time that follows, after the decisions have been made, and the path has taken its course, we cannot help but look back, sometimes in tears, sometimes in joy. But what carries us forward in life, is knowing that by trusting that standard which has brought us so far, we have the strength to do what "is right."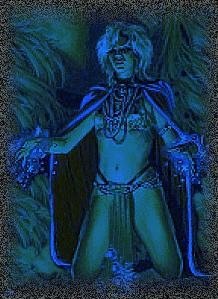 "THE AWAKENING OF LABRYS_S"
Listen close for I shall tell of the how the labrys came to dwell
Of long ago and soon to be, forged in the flames of mystery
Steeped in wisdom the old one told, lighting the lamp within this soul
Twas in the moon of an eclipsing light, the labrys stepped into night
Was then the power came to be, the old one passed the torch to me
Breathing deep a breath in me, of fire and earth and waters deep
The circle complete within the night, the old one left for all was right
Double blades hewed by hand, cloaked in blue before you I stand
A pentacle of four I wear on a chain, a triskle of silver that bears my name
The mark of the rose I wear on my breast, where secrets of others are safely kept
With staff in hand and antler set, a velvet pouch where crystals are kept
Dark of hair and eyes of blue, soul so deep and heart be true
So here I stand for all to see, and in your dreams please walk with me
But should we meet within the night, be well my love, for all is right


MORNINGS
In the quiet of the morning, as the sun begins to dawn.
I sense your eyes upon me, and your breath is sweet and warm.
You move in close beside me, and whisper soft and low.
I feel your hands caress me, and your touch is firm and slow.
I quiver in the silence, as your fingers trace my form.
I turn to greet my lover, whose intentions are so strong.
The taste of love lay on my lips, as you drink of passions wine.
Your arms have now embraced me, and the hunger starts to rise.
With sleepy eyes I watch you, as your kisses tease my mind.
Chills ascend my body, as with ease you make me sigh.
You pleasure me with passion, as if searching with your soul.
What greater wishes fill my heart, for only you would know.
And when the flesh can stand no more, you comfort me in stride.
And once again release in me, the longings then subside.
With weakened breath we still the air, a moment lost in time.
And softly drift into a dream, our bodies there entwined.



THE WAY YOU LOVE ME
I see you in the shadows, passion glimmers in your eyes,
You stir the flame within my heart, of the desires that I hide.
You anticipate my wonder, and take me to your side,
You somehow sense my wishes, and with tender lips reply.
You leave me weak and speechless, as you brush my hair aside,
I feel your touch upon my skin, and look to you to guide.
With certainty you pull me close, and stroke my shoulder bare,
In your grasp I feel the strength, of the love that holds me there.
I linger in the essence, and quiver with your glance,
Your quiet way of knowing, begins the lovers dance.
You whisper softly in my ear, not allowing me to stray,
You hold me with your body, as you steal my breath away.
I surrender in the moment, as our passions now subside,
Locked beneath my lovers touch, I breathe a gentle sigh.







WHAT IF
What if when you woke one day, and found that I was gone,
Would you miss me right away, with the absence of my song?
Perhaps you would not realize, the fact that I had left.
Softly stepping into the night, while quietly you slept.
And as the day would tarry on, would I capture but one thought?
Or would you simply carry on, not knowing I was lost.
And if by chance you heard a voice, and thought that it was me.
Would you quickly try to catch a glimpse, of the smile you wished to see.
And as you make your way back home, would you take a backward glance?
Hoping to see me following, as the shadows begin to dance.
Perhaps you'd start to wonder, as evening filled the air,
That I was gone away this time, and would you even care.
Would I drift across your dreams, and stir your peaceful rest?
To wish somehow you could recall, the words when we last met.
And in the days that followed, would you think of us and then,
Hold my memory closer still, and wish for what could have been.
Will you miss me if I leave someway, will I cross your mind again?
Or would you easily fill your heart, with another you befriend?
And if by chance the day should come, surely you would know,
That you had meant the world to me, in my heart I loved you so.





THE MORTAL SIDE OF HUMAN

I have often wondered just what it is that stirs the passions of ones heart to the point of unquenchable desire. What is it in the human nature, which cleaves so to the flesh and brings us such ecstasy? Is it the mere physical attraction of a person that draws us near, or is it perhaps the bodies own urging to renew itself through another. Or could it be the ability of the soul to find the likeness of itself in an autonomous being, someone totally separate, and yet the mirror image of our immortal self.
It would seem as though we could understand the reasoning with our vast concepts of reality and yet, when faced with the moment, we all fall weak to our subconscious desires. The fantasies that we all partake of, as we linger on the intense fervors of our daydreams, and somehow we loose the inhibitions that would otherwise caution our reaction to such primal feelings. Yet we know as well, the overwhelming satisfaction when we allow the flesh to be sated with such pleasures.
We are creations of great power and creatures of such weakness, and oddly enough, both compliment and complicate the other. With so great a power are we able to satisfy the weakness, and from such irresistible weakness is derived such power.
We are creatures who will try to rationalize it in our most philosophical moment. And for the most unexplainable reasons, the first to fall prey to it. Still we cannot deny the overwhelming capacity of our senses to stimulate us, holding our minds captive, and leading us into realms of unspeakable yearnings. So onward we march, invincible victors in our minds, and willing victims to passion in our dreams.