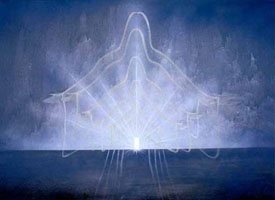 REFRACTION POINTS

There are times in one's life, that we reach what I refer to as refraction points along the way. A place where we change direction and pass from one path unto another, points of accumulation in which we often reflect on what has brought us to a certain place in time. It is at these moments even hard to say whether the focus and reflection should be on that which has brought us in this direction or the refraction itself, to ponder that which has been, or that which will surely be. Life itself is a journey, from the very highest of aspirations to the tortured silence of sadness, most of which we take in stride, addressing issues that are easily filed away as future memorandums to carry us past the pitfalls else we find every pebble in our path. Others however are, life shaping events, soul shaking realities that form a refraction point. These points may seem at times like rewards or ultimatums from the universe telling us that we are now in a place of change, no going back or revisiting but a time of decision. A preemptive demand that is unavoidable and will forever change the course of our next step into destiny.
You see, it is now that I have found myself once again at a refraction point in my life. The path leading here was unnoticed for quite some time, seems I had paid so much attention to avoiding the pebbles that I did not see the pitfall, or perhaps I reached a level of indifference thus making the pitfall inevitable and self induced. This refraction is somehow different than others though, I classify this as one of those soul shaking realities for I find myself looking back across the span of my life. From the earliest of memories up to even this second as I form these words, never before have I been aware of the depth with which I have rooted my existence in the world. And even now I feel, that this time I must evaluate with care all the factors leading me to this path.
My life has been blessed with so many revelations of ecstasy and yet balanced by events that equaled the tearing of the heart. Rewards of life's pleasures tempered by the sanctions of life's losses, these are now the events I find myself pre-occupied with, and still I am at a loss as to the next step. Of what value are these memories, are they the anchors of time that hold fast in the torrent of emotional waters or the portent of the final wave that will take me under. Are my fears based upon lessons well learned or apprehension of a future I cannot see?
Unfortunately, hind sight is 20/20, and God in all his graces did not find it necessary to bless us with an exact knowing. Thus I find myself at a refraction point, knowing full well that I must change direction, bend willingly, and move forward with my life. Taking in stride all that I have been, and incite the desire to be even more than I would have dared. Always knowing in my heart that in the worst of seas, I am able to tread the waters of time. For I know that whatever path I choose this time, I will draw upon the wisdom of times past. Then, when I am ready to set sail, God will surely grant me safe passage, and His hand will be firmly upon my shoulder to guide me. Upon tranquil waters I will drift towards a new shore.


THE KISS MY LOVER BRINGS
My eyes focus on the soft flesh that lingers ever near, breath to breath that speaks in soft tones such that no words can explain the quiver that my soul does feel.
Wet with the chaste dew of love I touch thee slowly as to taste thee with my mouth, the savor likened to that of newborn wine as you linger on my tongue.
Closing mine eyes I bear the passions of my lovers lips molding to mine, ever close with no end to the depth my lover seeks to find the chambers of my heart.
Deeply I drink of my love, for he doth sustain my spirit with
forbidden fruits that have not dwelt within my heart yet now is set upon my mind.
Shared desires release in me pyre's that rage upon my flesh, and spent I am left weak within the cradle of my lovers arms.
Oh aching of my thirst subside quenched by pure waters that flow amidst the fever, thou hast quelled the timeless longings I felt abide.
Softer still, as embers cool by the moonlight that plays in my
lovers eyes and gentle be thy touch upon my soul that trembles in the silence of your shadow.


A LOVERS TRYST
Stretch forth thy heart that I may be healed; lay my head upon thy chest that I may embrace your soul.
So gentle will you be as not to break my bruised heart for tender be the touch of my lovers hands upon my breasts.
Let this night unfold, as I taste of the innocence of loves first
longings, that I may pleasure my lover as no other.
These stirrings I feel with the rhythm of thy loins as I succumb to loves final thrust that leaves me weak amidst the scent of my lovers essence.
Thy kisses sweet upon my brow as the guardian of my dreams, in thine embrace I feel so safe and I pray I will know thee again.
Thy breathe upon my cheek calms the trembling of my flesh; softly thy whisperings lull me to a slumber as I have not slept before.


THE RHYTHM OF MY HEART
There are many times in our lives, that we have the opportunity to meet such unique people. Those who enter and leave a part of themselves with us, and then silently pass out of our lives again, most never to be seen or heard from again though they have left something of great value with us, a word of comfort, a smile to remember. I find it odd how sometimes; we find another in the world, who seems to fit so comfortably into our heart, as if that particular place had been reserved all along, just waiting for the arrival of that special person. Seems we drift through most of life, and never take notice, or even felt, that there was someone missing perhaps. Someone who, we know is there I suppose, but we never fully focus on the thought of them somehow, until they arrive in our life. And when they do, it makes us wonder, how could I have missed this one, this parallel soul and not have realized it? They enter so easily it would seem, and are familiar to us though we have known them not, and they move with a certain rhythm through our hearts. And it is from that moment on, that they have forever change us.
As I sit here in the evening hours, I watch the candle light and drift into thoughts of you. The flame flickers and fans its brightness, much the same as you have brightened a part of my life. It was you that wandered into my heart and forever changed the rhythm. Though we have not known each other long, looking back I cannot remember when it was that I noticed the change. And now, it is hard to imagine the future without you, for you are part of me now. I can feel you inside me as I linger on thoughts of you, and the smile you have given me will always be a reminder of your tenderness.
For I know, we live in different worlds, but we share the same heart, that memory will always lead me back to you. I will find you again; I need only follow...
"the rhythm in my heart."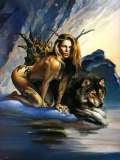 THE SPECTRE ode to "LAUDI"
Within the darkness of sorrows' hour, beneath the autumn moon, I hide amidst the rustic leaves kissed with a midnight dew.
Silently I wait to catch, a glimpse of one so rare. The sullen wolf who stalks the night in search of love so fair.
He crosses through the brook so cool to find the meadows edge. His journey ends with what had been, but now is lost to him.
He sits alone against the stone as if it were a chair, whispering aloud with his head bowed down as if someone was there.
When he left, I followed the steps that lead him often there. I searched the ground and there I found the stone he keeps with care.
As I read my heart can see the love that binds him there, for etched in stone I read the poem of the secret that he bears;
Beloved wife of all my life, my laudanum, your wolf is near.


THE CLOSING OF THE HEART
It has occurred to me that as we carry on our lives, there are times when with out effort, chambers of our hearts are opened. Dwelling places that are innumerable, and that the size is not of exact dimensions, but rather created from emotion and forever expandable to meet what ever the requirement. When I ponder this aspect, I am amazed at the ability of the heart to absorb so many inhabitants. Aside from my family, whom have a lifetime lease of their particular ventricles, I think of all the people I have come to know. Some for but a short time and others that have become lifelong residents, for I carry them with me always. Endless are the chambers of my heart, and in the quiet times, those times when we all reflect back on those who wander in and out of our lives, I flip through the chambers of my heart like an old worn photo album. Page after page of emotions, and always, I find one that had escaped my memory, lost beneath the years, but always present would I but search a bit longer. Within the various rooms, there are distant reminders of the moments shared, a song, a laugh, the tears and alas the sorrows. Emotions pinned to the walls like indexes, never to be forgotten. Oh the edges might be worn, and the reminders a bit faded, but always in the heart, the emotion remains. The feelings that dwell here may lose the words to describe the moment, but the heart has made a permanent recording, and we need only to access the room to "feel" what was. It has also occurred to me, that as we carry on our lives, there are times when we feel the need to perhaps, minimize a room. To compact the emotions and put them safely away, not to forget them or to ignore them, but simply let them age. Feeling that somehow, with enough time, and a fresh outlook, we could possibly sieve the layers of emotions keeping only that which we wished to remain. For as time and wine, perhaps so also we could parallel the heart. But then, what of the end times? Those times when for whatever reason, we find that we must close a part of our heart, that was there for so long? Is this possible and if so, how do we begin to go about the process? Are we ever aware of the beginning, or do we merely catch up with the emotion when we realize the time has come? Alas, this is where I have found myself. Turning pages, and avoiding this room for the process overwhelms me, for to close this chamber is like "the closing of the heart". To painful to go forward, and to painful to keep, and to difficult to know where to place those possessions which remain here in this chamber. Surely I could ignore this one room, but I know that unlike the others, this one will not gather dust and webs. Created from love that once burned bright it now lingers on the edge of a dying candle's last gasp for air. And with it, I feel, an uncertain emptiness in the loss of it. The time has come, and I cannot deny nor delay that which I feel is approaching. For I know, in my mind, this is the ending of a chamber, and with it comes the closing of my heart.



I MISS YOU
As I sit here in the silence, you often cross my mind.
I can feel your arms around me, in the quiet of the dawn.

And in the mist I wander, down paths with you again.
I picture us together, walking hand in hand.

And in my heart I feel, the love you give to me.
It warms me in the morning dew, that drips softly from the leaves.

I close my eyes and see you, standing next to me.
Your eyes are deep with wonder, and a smile you bring to me.

I smell the sweet surrender, of the breath that touches me.
And kiss the lips of passion, beneath the autumn trees.

You hold me closer to you, and chase the chill away.
To snuggle neath your chin, will take my cares away.

Always in my soul, I pretend you are here to stay.
For sadness will surround me, if I believe it not this way.

Often is this feeling, that your love carries me away.
And there is nothing that I'd rather think, than thoughts of you this day.


Enter supporting content here
This site is a work in progress as there are many poems to sort through and many more yet to write. So do check back from time to time as i periodically update.
Most of all...
"Inpsire Me Love, and I shall write of You."
Sign My Guestbook
View My Guestbook
Sign My Guestbook
View My Guestbook
BE WELL FRIENDS
PLEASE ALLOW TIME FOR THE FOLLOWING PAGES TIME TO LOAD. I HOPE YOU ENJOY ALL THAT YOU READ AND SEE.PLEASE SIGN MY GUESTBOOK AND TELL ME OF YOUR THOUGHTS.