OLD BARN CRYSTALS
ORDERING/MISC.LISTED ITEMS


PRICES ARE SUBJECT TO CHANGE ACCORDING TO STOCK AND AVAILABILITY. SPECIAL ORDERS AND REQUESTS ARE WELCOME. ALL ORDERS ARE SUBJECT TO SHIPPING AND HANDLING FEES PAYABLE BY MONEY ORDER OR CASHIERS CHECK ONLY.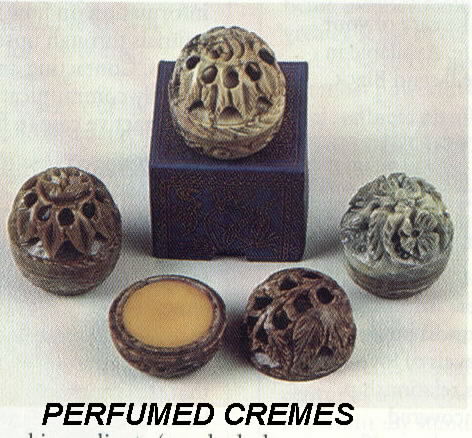 PERFUMED OILS AS WELL AS SPECIAL BLENDS OF OLD BARN CRYSTALS
BEST SELLERS INCLUDE -WHISPERS AND WOODGHOST
$8.00dram $12.00 1/3 oz. rollette $15.00 1/2 oz.

KAMA SUTRA HONEY DUST-SWEET ALLURING SCENT--$22.00 8oz. tin

EXOTIC PERFUMED CREMES IN A SOAPSTONE CONTAINER-PERFECT GIFT FOR ANY OCCASION--$6.50@
AMBER, PATCHOULI, SANDALWOOD, MUSK, JASMINE, OPIUM, LAVENDER
FRANKINCENSE, VANILLA, ROSE, NIGHT QUEEN, LOTUS


BOOKS--WE STOCK BOOKS ON VARIOUS SUBJECTS & INTERESTS, SOMETHING FOR EVERYONE. LARGE SELECTION OF CRYSTAL INFORMATION AND USES INCLUDING ALL OF MELODY'S
"LOVE IS IN THE EARTH " SERIES.
TAROT CARDS, GUIDED MEDITION TAPES. WE STOCK "THE WITCHES ALMANAC". 2001 CALENDARS ARE IN STOCK NOW, CAN'T FIND IT? CHANCES ARE WE CAN ORDER IT!
RECOMMENDED CRYSTAL INFORMATION TITLES
MICHAEL'S GEMSTONE DICTIONARY
Judithann H. David / J P Van Hulle
LOVE IS IN THE EARTH SERIES by Melody
KALEIDOSCOPE OF CRYSTALS Updated
KALEIDOSCOPE OF CRYSTALS Supplement A
KALEIDOSCOPE OF CRYSTALS Supplement Z


VARIOUS LARGE SEASHELLS,
BASKET ASSORTMENTS,
SHARKS TEETH,
LARGE ABALONE SHELLS
[GOOD FOR SMUDGING]
SANDOLLARS, SEA BEANS,
CARVED HOROSCOPE SHELLS
AND MORE.



EVER WONDER WHAT'S IN YOUR FUTURE? FIND OUT, IT'S IN THE CARDS.
DESTINY BIRTHCARD REPORTS-REPORTS SPAN ONE YEAR, DIVIDED INTO SEVEN PERIODS. GIVES PERSONAL PERSONALITY INFORMATION AND INFORMATION CONCERNING LOVE, WORK, MONEY AND HEALTH .
$60.00 FOR AN APPROXIMATE 30-40pg REPORT

NATAL BIRTHCHARTS-GIVES NATAL CHART AND ASPECTS CHART AND VARIOUS PERSONALITY INFORMATION
$60.00 FOR AN APPROXIMATE 30-40pg REPORT


BLESSING CANDLES
INTENTION CANDLES
AROMAPATHY CANDLES
ANGEL/GODDESS CANDLES
GARGOYLE CANDLES
X-LARGE SCENTED CANDLES
GEODE CANDLES
VOTIVE SCENTED CANDLES
VOTIVE INTENTION CANDLES
LARGE ASSORTMENT OF
CANDLE HOLDERS
WROUGHT IRON
RAW CRYSTAL
POLISHED SELENITE
POLISHED ORTHOCEARAS
POLISHED AGATE SLABS
LG. CERAMIC W/ CRYSTALS


PREMIUM INCENSE INCLUDING OUR BEST SELLER
"NAG CHAMPA" LARGE ASSORTMENT OF INCENSE BURNERS IN
VARIOUS STYLES AND SIZES. SMUDGE MIX, WANDS, BOWLS & CHARCOAL. SELECTION OF OILS FOR PERSONAL, AROMAPATHY, PERSONAL BLENDS AND INTENTIONS & SCENTED CREMES.


*ASSORTED CRYSTAL RUNE SETS AND VELVET POUCHES.
WORDS OF WISDOM STONES.

*DREAM CATCHERS, WIND DANCERS, LOVE CATCHERS, MAGIC CATCHERS, WISH CATCHERS AND CRYSTAL CHIMES. MAKE
A WISH IN YOUR PERSONAL WISH CATCHER, WISHES ARE
BURNED DAILY WITH INCENSE AND RELEASED TO THE WIND.


LARGE SELECTION OF MYSTICAL FIGURINES,WIZARDS,
GARGOYLES,ANGELS,SCRYIING MIRRORS,LAMPS,
DREAM VESSELS AND MORE.
HAVE AN IDEA BUT CAN'T
FIND WHAT YOU WANT?
LET US HELP YOU DESIGN AND
PERSONALIZE YOUR ITEM.

WE DO CUSTOM CERAMICS.

WE GLAZE AND FIRE ON SITE.